The Dog Chow Service Dog Salute Program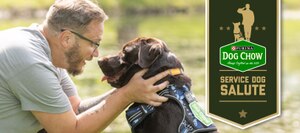 PTSD service dogs change veterans' lives
Join Dog Chow and our Service Dog Salute program in supporting the care and training of more service dogs for veterans with PTSD.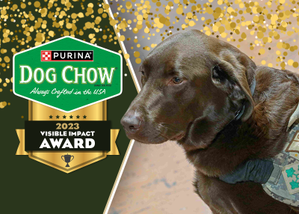 Congratulations, Huey!
PTSD service dog Huey has won the 2023 Dog Chow Visible Impact Award grand prize! In addition to awarding Huey's training organization, Operation Freedom Paws, with $25,000, Huey and his veteran Ramon will receive a well-deserved $10,000. Each of the four contest runners-up will also receive $1,000.
Thanks to everyone who voted in this year's contest. Because of your efforts, Dog Chow will also be donating $75,000 to the Association of Service Dog Providers for Military Veterans to help train more PTSD service dogs for veterans in need across the country. 
Click below to visit the Dog Chow Hall of Heroes page where you can view the inspiring stories of Huey and other life-saving PTSD service dogs all across the country.
The Dog Chow Service Dog Salute Program
Over 3 million military veterans currently struggle with Post-Traumatic Stress Disorder (PTSD). While PTSD service dogs are proven to reduce the severity of PTSD symptoms and suicidal behaviors, the demand for these life-saving dogs greatly outpaces the supply. Dog Chow is on a mission to change that.
For the past five years, the Dog Chow Service Dog Salute program has been taking action to help ensure that every veteran in need can obtain one of these life-saving dogs. Click the video to see our efforts thus far. And click below to learn the simple ways you can help.
Service Dog Salute Donations
Did you know that it costs over $20,000, on average, to train and care for one service dog for a deserving military veteran? But with the help of consumers like you, The Dog Chow Service Dog Salute program has been able to:
Donate over one million dollars by the end of 2022 to support the care and training of more veteran service dogs.
Raise awareness for the benefits of PTSD service dogs, particularly within the veteran population.
Help fund critical research to recognize service dogs as a legitimate therapy option for PTSD.
Work to help pass important legislation to enable more veterans to receive these highly trained dogs.