Purina® ALPO® Dog Food
Don't complicate your dog's food. Get to the meat of everything your dog both loves and needs with one of ALPO dog food's delicious wet or dry recipes.

Mouths, Start Your Watering!

Wet Dog Food
The Motherload of Meatiness
Dry Dog Food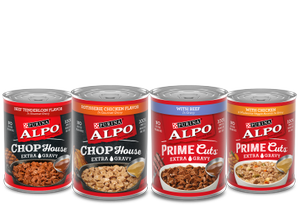 Even Gravy-er!
As if ALPO canned dog food recipes weren't delicious enough already, WE'VE ADDED EXTRA GRAVY! Check out these irresistible recipes — with NO artificial preservatives.
Stay in Touch
Sign up today! From training tips to special offers, get the tools you need to keep your pet happy and healthy.