Thanks for Attending this Year's Pet Parade!
Thanks for Making the Purina Pet Parade Such a Fun Event
Not only was this year's Purina Pet Parade a fun time for all, but 100 percent of the registration fees went directly to Open Door Animal Sanctuary, the largest no-kill shelter in the greater St. Louis area.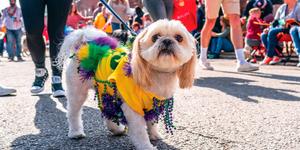 Check Out Photos from this Year's Pet Parade
See dogs of all sizes dressed to the nines in their best Mardi Gras attire on the St. Louis Post-Dispatch website. You can also follow #PurinaPetParade to see even more photos from the event.