About Prime Dog Chews & Treats
Try NEW Prime Bits Meaty Treats and Beef Chew Sticks!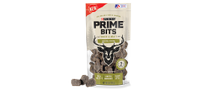 Prime Bits Meaty Treats
These natural, meaty treats are small, but fierce. Made with real meat as the #1 ingredient and no corn, wheat or soy, Prime Bits make it easy to give your puppy or adult dog a taste of adventure several times a day. And, at only 2 calories apiece, these tasty bits are excellent for training, too.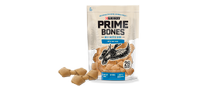 Prime Bones Mini Knotted Chews
Prime Bones Mini Knotted Chews are safe, long-lasting chews made especially for small dogs. They're made with natural, limited ingredients with the ancient grain amaranth and no corn, wheat or soy. And they're rawhide- and plastic-free to help safely satisfy your smaller dog's instinctual love of chewing.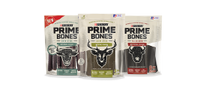 Prime Bones
Purina brought excitement to the dog chew segment: a chew that caters to a dog's instincts in a naturally edible way. Prime Bones is a safe, long-lasting chew in three tasty varieties: With Wild Venison, With Pasture-Fed Bison, and With Grass-Fed Beef.
Prime Bones gives your dog a taste of the adventure he craves without ever leaving the house and satisfies his instinctual love of chewing.
Share your Pups with #PrimeTreats
Millie The Golden loves her Prime Bones inside and out.
Hungry Nike takes a time-out to enjoy a Prime Bones.
Road trips and Prime Bones are two of Luken's favorite things.
Stay in Touch
Sign up today! From training tips to special offers, get the tools you need to keep your pet happy and healthy.