The Purina ONE 28-Day Challenge for Dogs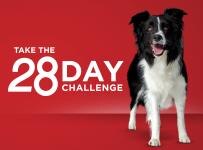 28 Days. One Visibly Healthy Dog.
When you feed your dog Purina ONE, you could see a difference in 28 days. More than 1.7 MILLION others have accepted the Purina ONE 28-Day Challenge to see a difference in their pet, from healthy energy and a shiny coat to bright eyes and strong muscles, including a healthy heart. What differences will you see?
See the Difference 28 Days Can Make
Mealtime Excitement
Starting with your dog's first full bowl of Purina ONE dry dog food, you could see more excitement around mealtime, thanks to real meat as the
#1 ingredient and the crunchy bites & tender, meaty morsels* that keep him coming back meal after meal.
*excluding Sensitive Systems & Limited Ingredient Diet formulas
Healthy Energy
The high-quality nutrition in every bag of Purina ONE helps support healthy energy in dogs. He may want to play more often and he may be happier overall. Your dog's vitality level may be enhanced by the complete and balanced nutrition of Purina ONE, made with 0% fillers and 100% nutrition.
High Digestibility
Purina ONE formulas* are highly digestible and promote high nutrient absorption, so more nutrition goes to work inside your dog and less goes to waste.
*excluding Healthy Weight Formula and wet formulas
Bright Eyes & Shiny Coat
Look for clear, alert eyes and a healthy skin and coat, supported by the omega-6 fatty acid, vitamins & minerals provided by Purina ONE.
Strong Immune System
Your dog's immune system is supported by a unique antioxidant blend of vitamins E & A and minerals zinc & selenium.
Healthy Joints
A natural source of glucosamine helps support your adult dog's healthy joints*.
*dry formulas only
Strong Teeth & Healthy Gums
Crunchy kibble and calcium help support strong, healthy teeth and gums*.
*dry formulas only
Strong Muscles Including a Healthy Heart
High-quality sources of protein, including real meat, help support all of your dog's muscles, including a healthy heart*.
*dry formulas only
Nutrition for a Lifetime
Keep feeding Purina ONE after finishing the 28-Day Challenge to continue supporting his health from tip to tail.
Save $5. Take the Purina ONE 28-Day Challenge Now!
Ready to step up to the 28-Day Challenge? Join over 1.7 MILLION others who have accepted the Challenge to see a healthy difference in their pet. What difference will you see?
Satisfaction Guaranteed or Your Money Back
If you're not satisfied with Purina ONE dog food, we will refund your purchase price. Cut out the "Best If Used By" date box from your bag. Send within 60 days of the date on your receipt along with your original purchase receipt with the price circled, a brief explanation of why you weren't satisfied with the product and your name and street address (PO Box not accepted) to:
Satisfaction Guarantee • Office of Consumer Affairs • PO Box 340 • Neenah, WI 54957
Offer only good in USA, APOs & FPOs.
How to Switch Your Dog's Food
It's always best to transition your pet's diet slowly to avoid potential stomach
upset and allow your pet's digestive system to adjust to any new ingredients.
Days 1-2
Introduce Purina ONE to your pet in small amounts, still feeding primarily the old food.
Days 3-4
Feed a little bit more Purina ONE to your pet each day.
Days 5-7
Gradually increase the amount of Purina ONE food and decrease your pet's former food until you are feeding Purina ONE exclusively.
Days 8-10
By now you should be feeding your pet exclusively Purina ONE.