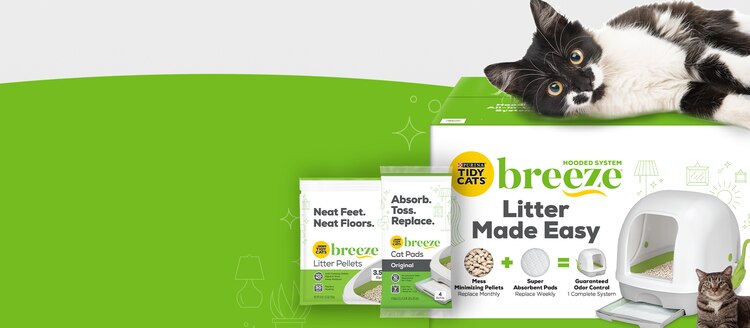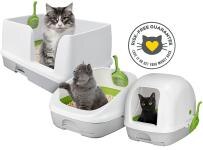 Tidy Cats Breeze Litter System
- Smart, simple design
- Outstanding odor control, with simple cleanup
- Anti-tracking pellets
- Super absorbent pads prevent ammonia odor for 7 days, guaranteed
- Just change pad weekly,* and pellets monthly
- Available in three versions to suit your needs: Original, hooded and extra large
- Risk-Free Guarantee—love it or get your money back
*For one cat.
How it Works
Tidy's most-reviewed litter system is now available in three different versions—original, hooded and extra large. So, no matter which you prefer, Tidy's got you and your cat covered. Switch the pad once a week (for one cat), the pellets once a month, and back to other litters…never.
Which System is Right for You?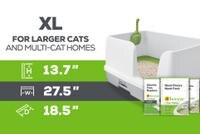 Kit Contents:
All-in-one XL litter box system, scoop, (2) 3.5 lb. bag of pellets, and (4) disposable cat pads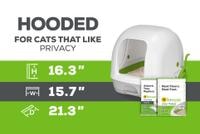 Kit Contents:
All-in-one Hooded litter box system, scoop, (1) 3.5 lb. bag of pellets, and (4) disposable cat pads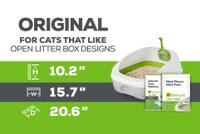 Kit Contents:
All-in-one Original litter box system, scoop, (1) 3.5 lb. bag of pellets, and (4) disposable cat pads
Breeze Pads + Pellets: A Match Made in Innovation Heaven
Tidy's Breeze pads and litter pellets are specially designed for the Breeze System, to divide and conquer odor by keeping #1 and #2 separate.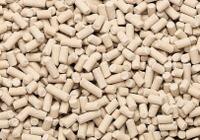 Breeze Pellets
Patented Breeze litter pellets don't just keep #2 on top for easy scooping—they also repel liquid and wick away moisture from your cat's solid "business," which provides maximum odor control. Oh, did Tidy mention they are anti-tracking too? Because they are. And it's life changing.
Breeze Pads
Liquid goes through to the super-absorbent, odor-fighting pad. And after a week? Just toss it, and replace it. Watch Now >
Transition to Breeze with Ease
Tidy wants the switch to Breeze to be as easy for you and your cat as possible. That's why it's important to read all the instructions. Skipping transition steps can cause cats to reject their new bathroom situation and, well, you can guess what would happen next...

Step 1: Introducing Breeze Cat Litter Pellets
Only change one thing at a time as your cat adjusts to Breeze. Start by mixing up to a full bag of pellets in with your current litter. Once your cat is cool with the pellets you can bring in the new Breeze system.

Step 2: Bring in the Box
Place the Breeze Litter System next to the old litter boxes.
Place a Breeze cat pad in the removable drawer, soft side up, and slide it into the base.
Then, fill the top portion with one package of Breeze litter pellets.

Step 3: Stop Scooping
You read it right—stop cleaning the old box. It might seem gross, but it's important that Breeze is the only pleasant option for your cat.
Trust Tidy—the benefits of Breeze far outweigh this stinky but temporary situation. Once she's using the new box for all her business, remove the old ones and continue to use Breeze as directed.

Do This, Not That
DO: Be patient. Every cat is different, so keep an eye on her while she adjusts and expect a few changes in her bathroom behavior.
DON'T: Force your cat into the Breeze box, as it might scare her and cause her to avoid it. It's important to let her see what the fun is all about on her own.
Transition Troubles?
Tidy's got your back. Try one of the tips below, or call 1-877-982-HELP (4357) to speak to a cat behavior specialist. Or refer to our FAQs below.
How many breeze systems do I need?
Animal behaviorists recommend multiple litter boxes even for single cat households, regardless of litter type/brands used. Here's the rule of thumb: one system per cat, plus one additional system (That means for 2 cats, 3 litter systems is ideal). 
Are there really enough pellets in here?
Yes, there are enough Breeze pellets in a pack. One bag of Breeze Litter Pellets might seem like less litter than you expect, but each bag contains enough for one month of use. Check out all of the Breeze Pellet options to find the best fit for you. 
Do I have to use the sidewall?
No, you don't have to use the sidewall, but it helps keep things neat. If you remove the sidewall during the transition to Breeze, try reattaching it once your cat is using the system faithfully, to minimize accidents and keep the Breeze Litter Pellets in the box.
My cat doesn't want to use breeze. Am I doing something wrong?
Make sure you are following every transition step in its entirety. Picking and choosing steps to follow may confuse your cat and delay a successful transition. If you're still having struggles, call Tidy to get some personalized help.
1-877-982-HELP (4357)
Try Breeze Risk-free
We want you AND your cat to love the ease of Breeze. If you've tried all the steps above and find that Breeze isn't the right fit for your household, we'll refund your money. Simply send the original UPC from your system, original receipt, your name, address and a quick reason why things didn't work out to:
Tidy Satisfaction Guarantee
Office of Consumer Affairs
P.O. Box 340
Neenah, WI 54957
Take it from Breeze Users
The reviews are in! Whether the Breeze system is used in shelters or households—there's a reason it's Tidy's most-reviewed product. See for yourself just what Breeze users love most about this litter game-changer.
Bought this product after researching and was truly impressed with the ease of cleaning and odor control. Cats adapted very quickly!
- Penski
My adopted cat, Tina, and I love this litter system!She transitioned very quickly from traditional litter, which is great because this litter is much easier for me to clean...
- DanniAndTina
I love this litter because there is no tracking of dust and it's great for odor control!My cats love it too.
- Alli