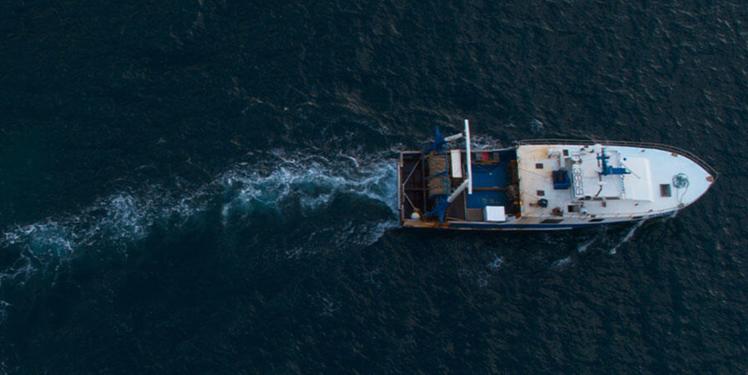 We can trace every single ingredient back to our trusted suppliers. Our experts don't just monitor our ingredients once they arrive at our factories—they evaluate quality from the source.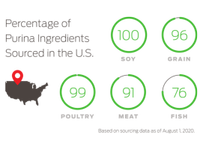 Where Do We Get Our Ingredients?
Quality ingredients come from quality sources. We source the majority of our nutritious ingredients right here in the U.S. from our trusted suppliers.
One hundred percent of our beef is sourced in the U.S., along with 99 percent of our poultry. Additionally, we source 96 percent of our grain, 100 percent of our soy here, too.
Disclaimer: Based on sourcing data as of August 1, 2020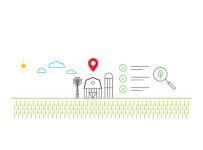 Quality Assurance
Before working with a supplier, our technical team conducts rigorous sampling to ensure the ingredient meets our standards.
We inspect each ingredient for quality and safety as it arrives at our facilities. Our quality assurance team performs multiple checks throughout the manufacturing process, and our factory employees have the power to reject any ingredients that don't meet our high standards.

We can trace every single ingredient back to our trusted suppliers. Our experts don't just monitor our ingredients once they arrive at our factories—they evaluate quality from the source.  
The Purina Steps To Finding A New Supplier

Identify
Identify suppliers to source our quality ingredients. We look for suppliers whose values align with ours before we even do an on-site visit.

Audit
We audit the supplier's facility. If a supplier has multiple facilities, we inspect and approve each location separately. 

Study
Study the integrity of ingredients through regulatory, food safety and toxicology reviews.

Test
Test ingredients prior to approval through our analytical laboratories. 

Monitor
Conduct ongoing monitoring and assessments at set frequencies based on the specific ingredient supplied.
We consider several criteria when evaluating a new supplier.
Our Supplier Must:

Comply with local laws and regulations

Practice ethical and responsible employment, including safety, health and workplace environment standards

Do their due diligence in responsibly caring for the environment

Have overall ethics that align with Purina values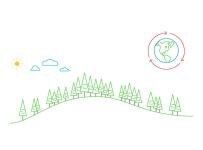 How We Are Minimizing Environmental Impact
Because ingredients make up the biggest percentage of our carbon footprint, Purina is committed to minimizing our global environmental impact. That's why we make responsible sourcing of our ingredients a top priority.
In fact, sustainability and environmental friendliness are both considerations when choosing suppliers. We do provide our suppliers with additional resources and expertise to further their sustainability efforts.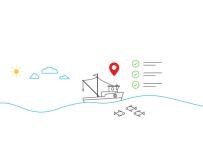 Responsible Fisheries
Seafood is a top priority in terms of sustainability because overfishing is such a serious issue. We work closely not only with our seafood suppliers, but also with external seafood sustainability experts, to ensure we source from responsible fisheries.

Much of the work we do centers around quality ingredients and minimizing our environmental impact, but we've taken our commitment a step further. Through several public-private partnerships, Purina and our partners are helping enable water quality, soil health and biodiversity projects across approximately 30 million acres with 1,000 farmers. 
This work is not only an investment in our future and our ability to procure ingredients in the future. It's also an investment in the healthy environments people, pets and wildlife need to thrive. Our goal with these projects is to positively impact the agricultural lands in regions where Purina's ingredients are grown, and to also support the entire ecosystem.
We take a collaborative approach to sustainability and conservation and look for projects and partnerships that both improve farmland and have a large, positive impact on an entire region. 
Stay in Touch
Sign up today! From training tips to special offers, get the tools you need to keep your pet happy and healthy.