Advanced Nutrition For A Healthy Head Start
The first 12-24 months of a puppy's life is an important period of growth, which is why they need nutrition specifically formulated to nourish their developing bodies and minds.
Each Pro Plan dry puppy formula contains DHA for healthy brain and vision development, antioxidants for immune system support, and contains guaranteed live probiotics.
Because every puppy is different, Pro Plan offers a variety of high-quality puppy foods to meet specific nutritional needs and taste preferences.
So whether you're looking for a large breed puppy food, a dog food for sensitive systems, or the best puppy food for your small breed dog, Purina Pro Plan offers formulas to help puppies like yours thrive.
Nutrition For Healthy Growth & Development
Antioxidants
support a puppy's developing immune system
Calcium
phosphorus and other minerals build strong bones and teeth
DHA
for brain and vision development
Omega-6
fatty acids and vitamin A nourish skin and coat 
Probiotics
for brain and vision development
Real Meat #1
first ingredient is real chicken, salmon, or lamb
Shop Purina Pro Plan Formulas
The advanced nutrition of Pro Plan is available online and in-store at pet specialty retailers near you.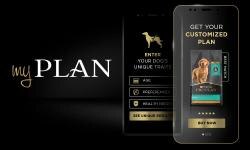 Get An Expert Recommendation On Your Puppy's Food
Like you, your puppy is an individual. Tell us about their preferences and nutritional needs, and our experts will provide a custom Pro Plan puppy food formula recommendation and feeding guide. Try it today to find the best dry puppy food or wet puppy food for your dog.