About Friskies Cat Food
With a wide variety of yummy wet and dry foods, treats and cat food complements, Friskies provides a world of taste adventures that feed your cat's playfulness and curiosity.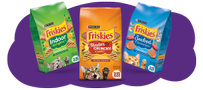 Friskies Dry Cat Food
Delicious, crunchy kibble in a variety of flavors and textures! Each selection is so yummy, it will bowl your cat over.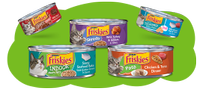 Friskies Wet Cat Food
Textures and flavors your cat loves, and some they haven't tried yet! And with more than 60 varieties to choose from, your cat has endless paws-ibilities.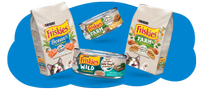 Friskies Favorites Wet and Dry Cat Food
Made with farm-raised chicken or natural seafood! Give your cat the catch-of-the-day or raised-on-the-farm mealtime experiences.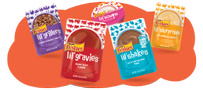 Friskies Lil' Complements
Perfect for snacking or combining with meals! From seared cuts to souper cups and every Lil' thing in between, add a Lil' excitement to your cat's day.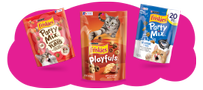 Friskies Fun Cat Treats
Get the party started and keep playtime going! Crunchy textures, exciting flavors, and they help keep your cat's teeth clean. It's the fun way to say, "I love mew."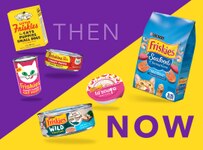 Friskies History, 1934 to Today
Friskies has been providing a world of taste adventures to feed cats' playfulness and curiosity since 1956. From its launch as a dry dog food in 1934 to its introduction of cat food, treats and complements, Friskies has always been at the forefront of pet food innovation. Today, Friskies is dedicated to helping keep cats nourished and happy with exciting textures and flavors cats love.
Stay in Touch
Sign up today! From training tips to special offers, get the tools you need to keep your pet happy and healthy.