The Brains Behind Bright Mind
Around age 7, the glucose metabolism in a dog's brain begins to change – which can affect things like memory, learning or decision making.
For more than a decade we've studied aging in pets and asked, "what if nutrition could positively impact a dog's cognitive health?" And we made a remarkable discovery: it can.
We discovered that enhanced botanical oils can be used as an additional energy source for a senior dog's brain, helping him think more like he did when he was younger.
When added to the daily diet of dogs 7 and older, the enhanced botanical oils promoted memory, attention and trainability.
Brain-Supporting Food For Older Dogs
Bright Mind Adult 7+ Formulas
Enhanced Botanical Oils
Shown to promote alertness and mental sharpness in dogs age 7+ with visible results within 30 days
DHA & EPA, Antioxidants, B Vitamins, and Arginine for cognitive health
Glucosamine
And EPA, and omega-3 fatty acid, for joint health and mobility
Omega-6 Fatty Acids
and vitamin A to nourish skin & coat
Real Chicken #1
Real chicken is the first ingredient in all dry formulas
Probiotics
Dry formulas are fortified with guaranteed live probiotics for digestive and immune health
Vet Recommended
Purina Pro Plan is recommended by veterinarians
Shop Purina Pro Plan Formulas
The advanced nutrition of Pro Plan is available online and in-store at pet specialty retailers near you.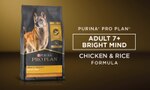 Does What It Says, and So Much More!
I've been feeding this to my 11 year old American Eskimo dog for a little shy of a year. She definitely seems brighter and more alert. Everyone comments on how she seems like a "permanent puppy" and I'd have to agree.
Reviewed By: - RaeRenee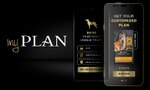 Get Our Expert Food Recommendation
Is your older dog's food fueling their mind and body? Tell us about your dog's preferences, lifestyle, and more to get our expert recommendation on the Pro Plan formula that's right for them. Plus, get a personalized feeding guide.