Purina DentaLife Cat Treats
DentaLife dental treats for cats are specially designed to help the tooth penetrate the treat, surrounding all sides of the tooth to help reduce tartar buildup. And each crunchy bite has a flavor cats love, so you can be sure they'll keep coming back for more.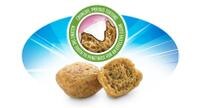 The Innovative Crunch That Cleans
The unique, porous texture found in each treat is scientifically designed to surround your cat's teeth, making it easier to control tartar buildup.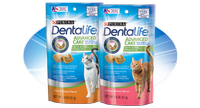 Flavors They Love In A Treat They Need
With added calcium and taurine in Tasty Chicken or Savory Salmon Flavors, your cat will love every tooth-scrubbing bite. 
Benefits of DentaLife Dental Treats
Porous texture helps reduce tartar buildup.
Allows tooth to penetrate the treat for an effective clean.
Proudly produced in USA facilities.
Featured DentaLife Cat Treats