Kit & Kaboodle Cat Food & Treats.
Kit & Kaboodle has the wet cat food and dry cat food to supply the 100% complete nutrition your adult cat needs, and the fun, delicious treats they love, all at an affordable value. Kit & Kaboodle is a great choice in cat treats and cat food for outdoor cats and indoor cats, and it won't break your budget.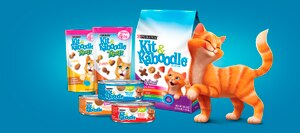 Nutritious Food, Delicious Treats, Affordable Value
Kit & Kaboodle cat food has oodles of taste your cat loves and the complete nutrition your adult cat needs. And don't forget the yummy Kit & Kaboodle cat treats! All at a reasonable value! It really is the whole Kit & Kaboodle!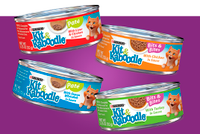 Wet Cat Food
Available in smooth Paté and chunky Bits & Bites, each in two flavors. There's a tasty wet cat food for every cat!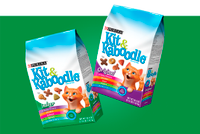 Dry Cat Food
Yummy flavors meet fun shapes in these complete and balanced dry adult cat foods. Bye-bye "bowl boredom!"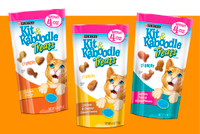 Cat Treats
With 3 lip-smackin' flavors in fun shapes cats love, you won't find any "treat boredom" here. Every bite really is the whole kit & kaboodle!
Stay in Touch
Sign up today! From training tips to special offers, get the tools you need to keep your pet happy and healthy.