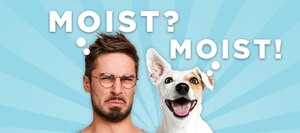 People Hate Saying It. Dogs Love Eating It.
Overcome your moistophobia by feeding your dog the delicious taste of Moist & Meaty.
Sounds So Wrong. Tastes So Right.
Serve up the smiles at mealtime!
Stay In Touch
Sign up today! From training tips to special offers, get the tools you need to keep your pet happy and healthy.