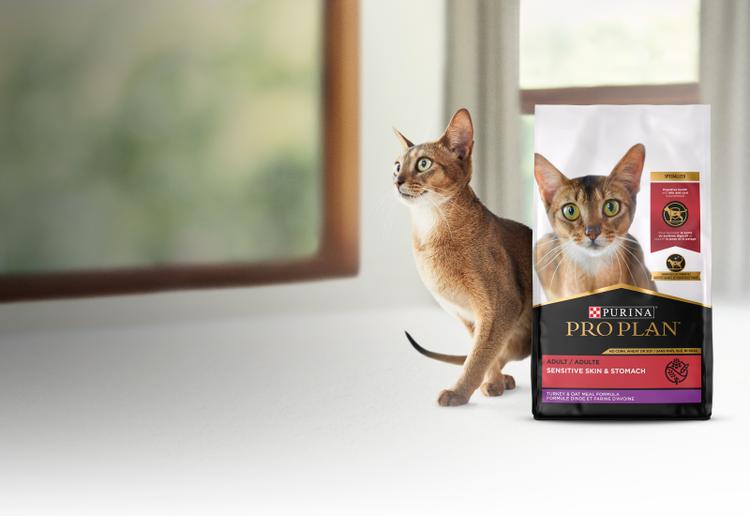 Nourish Your Cat's Total Wellbeing
When a cat has a sensitive stomach or skin, it not only impacts which food they can eat, it can also affect their quality of life.
Pro Plan Sensitive Skin & Stomach formulas are developed with specialized nutrition that promotes healthy skin and a shiny coat, as well as digestive health.
And because every cat has their own unique tastes, preferences, and nutritional needs, we offer options with lamb or turkey as the first ingredient, as well as an option that reduces the allergens in cat hair and dander.
No matter which Sensitive Skin & Stomach formula you choose, you can be confident you're providing outstanding daily nutrition and taste. So your cat can live a life without compromise.
Gentle Nutrition For Sensitive Systems
Rice & Oat Meal
is easily digestible and gentle on the digestive system
Omega-6
fatty acids and vitamin A to nourish skin and coat
Real Meat #1
First ingredient is real lamb, turkey, or salmon in every dry formula
Vitamin A
and taurine support healthy vision
Probiotics
Fortified with guaranteed live probiotics for digestive and immune health
Made Without
Corn, wheat or soy, artificial colors or flavors
Shop Purina Pro Plan Formulas
The advanced nutrition of Pro Plan is available online and in-store at pet specialty retailers near you.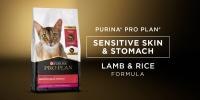 Is A Sensitive Skin & Stomach Cat Food The Right Fit?
If you've ever had a cat with sensitivities, you know the right food can make all the difference. Get our expert recommendation on the right Purina Pro Plan formula for your cat, based on their unique traits and preferences. Plus, get a custom feeding guide just for them.