Nourish Healthy Beginnings With A High-Quality Kitten Food
From wobbly steps to giant leaps, the first year of a kitten's life is a crucial time of growth and development.
Give your kitten the nutritional building blocks they need to thrive, with advanced nutrition specifically formulated to nourish their developing body and mind.
Pro Plan kitten food contains DHA for healthy brain and vision development, antioxidants for immune system support, and guaranteed live probiotics in every dry formula.
Because every kitten is different, Pro Plan offers a variety of high-quality wet and dry kitten foods to meet specific nutritional needs, textures and taste preferences.
Nutrition For Healthy Growth & Development
Antioxidants
support a kitten's developing immune system
Calcium
phosphorus and other minerals build strong bones and teeth
DHA
for brain and vision development
Omega-6
fatty acids and vitamin A to nourish skin and coat
Vitamin A
and taurine support healthy vision
Guaranteed Live Probiotics
for digestive and immune health in every dry kitten formula
Vet Recommended
Purina Pro Plan is a veterinarian recommended brand
Shop Purina Pro Plan Formulas
The advanced nutrition of Pro Plan is available online and in-store at pet specialty retailers near you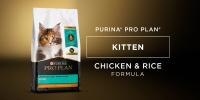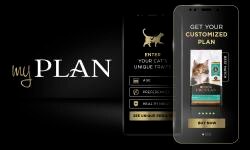 Nourish Your Kitten Like The Individual They Are
No one knows your kitten better than you do. First, tell us all about their unique traits and preferences. Based on your answers, our experts will recommend a Pro Plan kitten formula to help you choose the best food for them. And, you'll also get a custom feeding guide.