Inspired by the World's Ultimate Endurance Athletes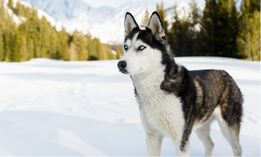 It Started with a Group of Working Dogs in Alaska
It began with a group of elite working dogs in Alaska — canine athletes who routinely run up to 30 miles a day. These incredible dogs inspired a groundbreaking discovery. The right levels of protein, fat, and other key nutrients in a dog's diet can actually foster a metabolism that's more effective for athletic performance.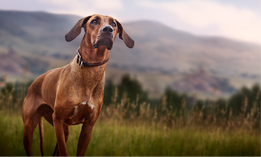 Purina Continues Pushing the Science of Nutrition Forward
Today, Pro Plan and the innovative experts at Purina continue to push the science of nutrition forward. From fine-tuned nutrition that is specially formulated to help high-performance dogs optimize their oxygen metabolism (VO2 Max), to puppy formulas that promote concentration and trainability, to adult 7+ formulas that help keep active senior dogs going strong, we are constantly hard at work finding new ways to fuel your dog's strength and stamina at every stage of life.
Backed by Science
The innovative nutrition of Purina Pro Plan is backed by a team of more than 500 nutritionists, veterinarians, and scientists. Year after year, our tireless team of experts dives deep into the science behind active dogs and the nutrition that fuels them.
VO2 Max, or Peak Oxygen Uptake, is a measure of the maximum amount of oxygen a dog's body can utilize during exercise. The greater his VO2 max, the more effectively your dog's body can use that oxygen to generate energy. 
The top human athletes in the world have a VO2 Max of around 93 ml/kg/min. Elite working dogs have a VO2 Max of more than 230 ml/kg/min.
A Dog's Main Energy Source Comes from Fat, Not Carbs. In fact, dogs burn fat at almost 2X the rate of humans.
With fine-tuned protein-to-fat ratios, Pro Plan Sport is able to fuel metabolic needs and maintain lean muscle.
Every ingredient, every nutrient, every vitamin & mineral in our Pro Plan Sport formulas is chosen for a purpose and backed by science. 
Pro Plan Sport Performance 30/20 has been shown to optimize oxygen metabolism (VO2 Max) for increased endurance.
"If it doesn't work, we don't recommend it. Pro Plan works."
-Mike Stewart, President Wild Rose Kennels
"He's my partner and my heart. There's only one food I trust."
-Maria Badamo, Veterinarian and Champion Agility Trainer
"They give their all every day, so it's my duty to give them only the best."
-Amber McCune, Champion Agility Trainer
*Based on 2022 National, World & Invitational Champions and Purina Award Winners. The handlers or owners of these champions may have received Pro Plan dog food as Purina ambassadors.